Contact:
Catie Gavin — (716) 847-3147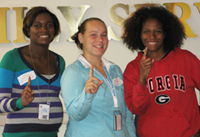 Stand Up 4 Youth
Northern Youth Leadership Team
Central Youth Leadership Team
Southern Youth Leadership Team
The Northern and Central teams meet the second Tuesday of each month in various locations.
The Southern Team meets the second Wednesday of each month from in Jamestown.
Please contact Catie Gavin via the contact information above for details about meetings.