Contacts:
Gloria Moran — (518) 486-5184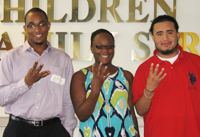 Youth 4 Progress (Y4P) Youth Leadership Team
The Y4P team has been setting up meetings on a month to month basis. They meet from 3:30-5:30pm at various locations in the Capital Region. Contact Gloria Moran.
North Country Youth Leadership Team
The North County Team (St. Lawrence, Franklin, Essex, Clinton, etc.) has a rotating calendar. Please contact Gloria Moran for more details.