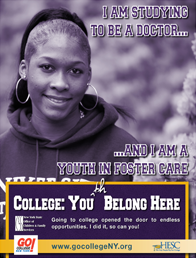 A Dream Come True: Learning to Believe In Myself Got Me to College
When I was 16 and pregnant with my son, I decided I wanted to go to college. I did not want to continue my family's cycle of being low income and struggling through life.
My only problem was that I didn't know the first thing about college. I did not know the difference between community colleges and universities, how to apply, or where to get the money. I also worried that the schooling I received at my group home for pregnant and parenting teens would not be good enough to prepare me for higher education.
'You'd Be an Excellent Social Worker!'
Even though I worried I hadn't gotten a good enough education and might not be smart enough for college, I told a staff I wanted to go, and to one day become a social worker or counselor.
"You would be an excellent social worker," she said. She had a degree in social work herself and told me I could do anything I wanted. After that, we talked more about me going to college. I began to think that maybe my dream could become reality. I decided my goal would be to attend a four-year university.
A few months after I had my son I left the group home and went to live with a relative. I returned to public school, which was a total shock. I felt miles behind the rest of the 12th graders. I felt like a failure and feared my dream of going to college might never happen.
Was I Good Enough For College?
I became really close to my homeroom teacher at the school, Ms. P., who told me, "You are really smart. You should apply to our local four-year university. I know you can get in there!" She had more faith in me than I had in myself.
I thought I would be better off at a community college where I could make up all the requirements I needed to be accepted to a four-year university. So I took an assessment test for my local community college and scored average in almost everything.
I applied for scholarships, but didn't get any and could not understand why. Not getting any of the scholarships made me feel like I was right and Mrs. P was wrong: I wasn't good enough for college.