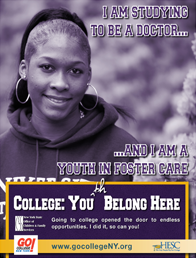 A Dream Come True: Learning to Believe In Myself Got Me to College
(continued)
Think the Worst, Get the Worst
Near the end of the year, I needed to fill out a yellow "senior datasheet" to be considered for scholarships given out by the school. Because I believed I would never be chosen, I didn't bother to turn mine in.
The day that the school announced the winners of the school, I went into Ms. P's classroom for fifth period to do my job as a teacher's assistant.
"Why didn't you turn in your senior datasheet?" Ms. P. demanded. "I nominated you for a scholarship and you were chosen, but since you didn't turn in your datasheet, they won't give you the scholarship!"
I was so disappointed in myself. I had no idea that Ms. P thought I was so great. Because I thought the worst, I got the worst. I wondered if maybe I should start believing in myself as other people had believed in me. Perhaps that's what it would take to make my dream of college become a reality.
Taking My First Step
My social worker suggested that I attend Independent Living Skills classes to get more information about college before I went that fall. I was very shy and I didn't want to sit in a group of people I didn't know. I convinced myself that I knew everything I needed to know. If I didn't know something, I decided I would ask my sister since she was enrolled at the two-year college I was planning to attend.
Every time I set foot on the campus of that college, I felt nervous. College felt so big and I felt lost in a world of people who seemed bigger, better, and smarter than I was. When there was an orientation for new students I didn't go because I was so afraid of going on campus.
I also had trouble registering because I couldn't understand how people would leave a one-hour class at 9 a.m. and make it to the next class starting at 10 a.m., so I registered for only one class. Later I took a big step and asked someone how the class timing worked. I found out that teachers let students out from classes 10 minutes before each hour so students could be on time to their next class.