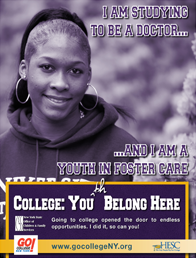 A Dream Come True: Learning to Believe In Myself Got Me to College
(continued)
Too Shy to Ask Twice
Through my sister, my old high school, and my independent living skills program, I heard about an Educational Opportunity Program (EOP) designed to help first generation college students, low-income students, and students who had taken remedial classes. I applied, but I didn't get a response.
I was very disappointed because EOP had counseling and other benefits like book grants, workshops, and a special graduation ceremony. I was too shy to go and ask why they had not contacted me, but I told my sister about my problem. After she talked to one of the head counselors, I got a date and time for orientation and I received EOP services, which helped me.
Facing Fears and Finding Support
My first day of school was so scary. I still felt I wasn't good enough for school and I wished I could be home, spending time with my son. Then I remembered that my 18th birthday would be here in less than two months, and there would be no more foster care money. I was going to have to start supporting myself.
With that in mind, I was brave and went to my first class, English.
After working hard in the English class for one semester, I earned a "B." I was very proud.
The second semester I not only took a full course load of classes, I also found a job. I went to a program that helps foster and former foster youth get jobs and my case manager helped me create a wonderful resume. Soon I was the student worker for our county's Independent Living Skills Program, working 20 hours a week.