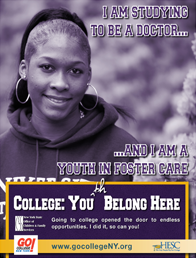 A Dream Come True: Learning to Believe In Myself Got Me to College
(continued)
Persistence Paid Off
As time went on, college and work became creative outlets for me, which made it easier for me to balance work, school and being a mother. That same semester, I learned of two scholarships for former foster youth. Like the last time, I thought I would not be chosen, but this time, I did apply. To my surprise I got both scholarships I applied for.
Getting those scholarships finally made me feel I belonged in college. Through those scholarships, I found the financial and emotional support I needed to continue attending college.
I still sometimes felt inferior to other students, but in November, I went ahead and applied to a local four-year university. The next spring I finished my last semester in community college, but an EOP counselor pointed out that I was one science credit short of graduating. Luckily I learned that I would take an astronomy lab course offered that summer.
I Reached My Goal
In March, I received a letter from the four-year university that I applied to and ripped it open. I was accepted! I kept reading the letter over and over to make sure that I was reading it correctly. I was very excited. I had thought I wasn't good enough and that I could never get through college, but through persistence, I had finally reached one of my long-term goals.
In May I graduated from my community college with all the other students. I felt good. I felt like I could achieve anything I wanted.