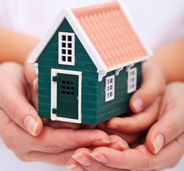 Mom Knows Best
Growing up with older siblings was kind of tough. I always felt that my two older brothers and one older sister were able to get first dibs on everything, and their opinion counted more than mine. But as I grew up I learned that being younger also has advantages. One big one is that I get to learn from my siblings' mistakes.
My older sister and I used to argue about almost everything, from whether to turn on the light in our room, to which side of the closet we claimed. We agreed on some things—for example, we both liked the Backstreet Boys and watching World Wrestling Entertainment on TV. But it was only the small things that we connected on. Our personalities were at opposite poles.
My sister was always ahead of the game at school and succeeded in almost everything she did. She was the trophy of the family and everyone believed she was destined to succeed. In high school, she talked about becoming an assistant district attorney; her goal was to be the greatest lawyer in Queens County.
Not Mister Right
But then, when she was about 16, my sister met her first boyfriend at her first summer job. This boy was about the same age as my sister and lived near us. She began bringing him to our apartment all the time.
My mother instinctively felt a bad vibe. She warned my sister against the relationship, and was not subtle about the fact that she couldn't stand this boy. No matter how much he would try to make jokes or show up bearing gifts, she never welcomed him.
At first I thought that my mother was being overzealous and not giving this the chance to present who he really was. Then my sister started coming home at all hours of the night, claiming that she had been working overtime or something else when really she'd been with her boyfriend.
My mother saw through these deceptions, and they made her more hostile to this boy. By the middle of December, my sister was cutting after-school responsibilities like her internship so that she could see her boyfriend instead. That's when my mother finally told her that she was not allowed to see him any longer.
By then, I could completely understand where my mother was coming from. This boy knew the rules: Coming home late and lying about your whereabouts was forbidden. Even if our mom was too strict, that didn't excuse total disobedience.
I started to realize that my mother was right about the guy, too. My sister's boyfriend had to be a jerk; otherwise, he wouldn't have let my sister throw away opportunities for his sake. I started to see him as the fork in the road that was making my sister wander away from the life path that she was once so certain about.
When my mother told my sister that she couldn't see her boyfriend anymore, there was a huge fight. Afterwards, she became sullen. During dinner she would just sit there, not speaking to anyone.