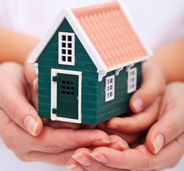 Mom Knows Best
(continued)
Runaway
One Sunday, not long after the big fight, my two brothers and little sister and I went to church with our mother. My big sister did not attend. When we got back home, my mother called out to her to get in here. Silence. She was gone, and no one had any idea where she was until my brother found a note that she'd left on the table. It stated that if we could not accept her decisions then maybe it was time for her to go.
Of course I had heard of runaway teens, but I never guessed it would happen in our own home. We called around to some of her friends, and none of them would tell us where she was. We assumed that she wasn't far away, but it was still a tense time. About a week later, my brother spotted our sister sitting at the back of the restaurant where her boyfriend worked, reading a book. I guess my brother felt awkward about approaching her, so he just ordered his food and left.
After that, we figured that she was staying at her boyfriend's house and tagging along when he went to work. My mom would say things like, "If that's how she is going to be, then fine, don't ever come back home. I don't care anymore." But it was obvious from the tension in her voice that she was upset; the more she said she didn't care, the more I knew she did.
Second Chance
One afternoon after she'd been away for about two weeks, my sister came back. She barely spoke, and neither did my mother at first. But she let her stay. Things seemed to be a little better than they had been. My sister tried to be polite and to stay out of everybody's way. No one knew the reason why she'd come back.
This time around, the rules were absolute: she had to stay away from her boyfriend entirely, and stop with the lies and sneaking around whenever she felt like it. This didn't mean she couldn't date at all, just that my mom had to approve of the boy first.
To me, my mother's ruling seemed fair and just in light of all that had happened. But soon it was apparent that my sister was still sneaking around. After a few months she got busted for the same old tricks: seeing her boyfriend; saying she was at one place when she was really in another. She didn't want to face the consequences of what she'd been doing, and ran away again.
Wasting Her Life
This time I was not shocked at all. My sister had been picking fights with anyone in the family who was willing to get in the ring with her, and especially talking back more to our mother. It was obvious that she couldn't have cared less what our mom said.
When she left again, my mother said this time was final; she would not be allowed back. I didn't blame my mother for being angry. But despite all the differences we'd had in the past, I wasn't happy to see my sister crash and burn. It's a shame to see anyone let go of their dreams for someone else. It seemed like she was wasting a big part of her life by putting him before school.
Months later, my sister and her boyfriend fell on hard times. She came back to our apartment and told my mother that they were arguing all the time and the fights, though never physical, were hard to handle.
In spite of her behavior, my mother listened to her problems and gave her advice. She could have said "I told you so," but instead she took a kinder tone; she said things like, "You're young and you should just be having fun instead of making things really serious."
However, when it came to letting her back in the house, my mother stuck to her word. She told her that she had broken her trust too many times. My sister was out in the cold, and wound up having a friend of hers take her in.
I thought she deserved everything that happened to her. She thought that she knew the world, and nobody could tell her what to do. Despite her book smarts, she acted pretty foolishly.