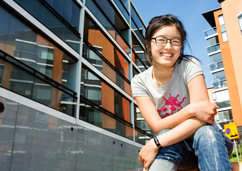 At Long Last: My Own Place!
By Angi
I was living in a foster home last fall when one day I told my social worker that I would like to live on my own. Even though I brought it up suddenly, I had thought about it carefully before I told my social worker.
I wanted to try it because a lot of people I know are in Independent Living (IL) apartments and they told me how good it is. Another reason was that I've been in care for a very long time and I was sick of foster and group homes.
To my surprise, my social worker told me there was an apartment available. She asked me if I was sure that's what I wanted, and I told her yes, even though I wasn't really sure. I felt ready for it on the outside, but on the inside I wasn't ready to be on my own.
Free at Last
Another reason I jumped at the chance was I didn't want to lose the apartment. If I didn't make up my mind fast, somebody else would have gotten it and I would have been put on a waiting list.
I was so excited, I just couldn't wait to move from my foster home into my new apartment. I was looking forward to feeling free.
My agency told me I would move in on a Friday, but at the last minute, they canceled it. They told me they'd move me on Monday, but I was crushed. I thought they were never gonna move me.
Finally, on Monday, December 9th, I moved into an apartment in Rego Park, Queens. Two workers from my old agency helped me move. It was a fun day because I was happy about moving, but also because the workers helping me were telling jokes and being silly.
What I like most about being in my own place is I don't have to worry about anybody being on my back about anything. Even though I don't have a curfew, I don't abuse it. I live life just like I did when I lived with my foster mother. I don't stay out late much and I do everything I'm supposed to do, like going to work at the magazine and my volunteer job, going to my agency for group sessions, and keeping my doctor and therapy appointments.