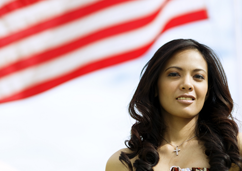 A New World: Immigration and Foster
By S.F.
I was born in Belize, and my parents died when I was very young. My aunt brought me to the U.S. at the age of 9. We came over legally, but I was only allowed to stay in the U.S. for two weeks. My aunt decided to keep me here for good and just hope that the government would not find out. I had no say in the matter.
I did not start school right away because my aunt needed to prove her legal guardianship over me. In Belize, the system was not as organized and serious. But here in New York, the school wanted proof of kinship.
On my first day of 5th grade, my aunt sent me to school in a dress and fancy shoes with bows in my hair. All the other girls were wearing jeans and sneakers, and here I was, looking like an old-fashioned church girl. My classmates asked, "Why do you talk like that? Where are you from? And what are you wearing?"
The kids at school did not know much about the outside world, so for three months straight, I had to explain Belize. They would reply, "Oh, you mean Brazil?" or, "Aren't you from Jamaica?"
When I became a ward of the state, I got scared that the government would find out that I was in the U.S. illegally and send me back to my country or lock me up. I felt alone in the world.