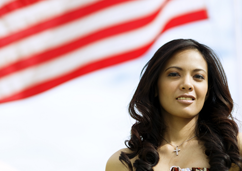 A New World: Immigration and Foster
(Continued)
It took a long time and it was a complicated process, but I finally got my green card and Social Security card with the help of my foster care agency. Once I got my documents, I felt like I might finally fit in.
When you're in foster care, feeling like you belong is important. For those of us who are immigrants in the system, that sense of belonging is even harder to achieve. We are separated not only from our loved ones, but from everything that is familiar— our language, culture, family history, and so much more.
Like me, most came to the United States illegally as children and usually had no choice about it. Often they didn't even know they were living here illegally until they found themselves in foster care. It's complicated, but there is a special path to a green card for many kids in foster care, and it's important to know your options and where to turn for help.
As for me, I am thankful for the opportunities I've had in the United States. I live in a comfortable home, with enough food and clean water. I have medical benefits and a free education, I got my GED, and I'm now in college. I know that I am not a full-fledged citizen yet, but I still feel like an American.
(Read another youth story, "Seeking My Education: I didn't know I had the right to go to school")