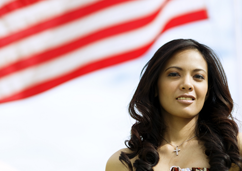 Seeking My Education:
I didn't know I had the right to go to school
By Vanessa
I still remember vividly the day I left my home, my family, and my friends in rural Mexico and headed for the United States. I was only 16, but I had two clear reasons to leave. The first was that I was being persecuted because of my sexual identity and felt unsafe. I wanted to be able to accept and express myself as I was.
The second was that I wanted to help my family financially, and I promised them that if they let me go to the U.S., I'd have a brighter future and I'd be able to help them through a difficult time in all our lives. For my family, it would make all the difference to receive financial assistance from someone working in the U.S. My father couldn't continue to provide for the family after he was seriously injured in a car accident— the same accident that killed my 18-year-old brother, Neri.
After that tragic event, things in my family were no longer the same. My oldest brother was forever gone. My younger sister left to attend school in Mexico City. And at home we barely had any food to eat.
I saw the U.S. as my ticket out of poverty. I hadn't finished high school, but that didn't matter to me since my chances of going to college were pretty slim. At that point getting a job and making money was much more appealing.