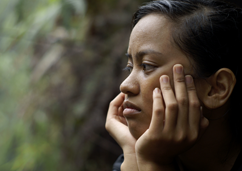 Don't Keep It Inside: Talk It Out
(continued)
Acting Out
Sometimes I would cry like a baby over all the death in my family. Other times I'd feel angry and confused.
I didn't trust anyone, especially my family, and I thought people were saying negative things about me. I started to disrespect my elders, steal, stay out late, and fail in school.
Things got so bad that I was sent to two different group homes. At the homes I pretended to feel better about myself, but being there made me feel like more of a failure and like I didn't deserve to live.
I really needed someone to talk to. I needed someone to show me that there was still hope for me and to help me realize that everything that was going on wasn't all my fault.
I went to one therapist after another. But my therapists didn't ask how I was really feeling, which was what I wanted. Instead they just skimmed the surface of the problems and offered me dumb advice like "Watch your temper," or "Try to fit in."
But my fourth therapist was different. She didn't talk to me like I was a toddler. And she hardly ever talked about herself.
She didn't act like I had to take her advice just because she went to school for it. And if I ever forgot to come for an appointment, she'd call to remind me.
That alone made me feel like she really cared. Slowly I began to open up and tell her more about myself.
I remember one time I was hit in the face by another resident of my group home, and it left a mark under my eye.