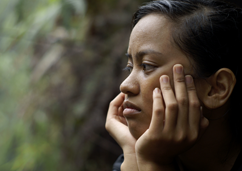 Don't Keep It Inside: Talk It Out
(continued)
Picked On
From that day until the mark went away, I was picked on. It was like I was garbage in a dumpster, and the residents were the seagulls-just picking and picking at me until there was practically nothing there.
I pretended that what they said didn't hurt, but it did. They would say things like "Norm's a punk," or "Check out big Norm with the black eye." Even though it was a joke to them, it wasn't to me.
At first I didn't want to talk to my therapist about the fight too much. I didn't care how it started, or the consequences I had to suffer. It was the reactions I got from people that bothered me, and that was what I wanted to talk about.