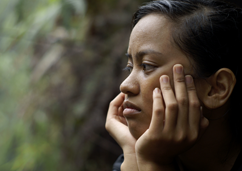 Don't Keep It Inside: Talk It Out
(continued)
Opening Up
She asked me how I felt about all the attention I was getting. Of course I said I was angry and didn't like it. But then she repeated the question, explaining that she wanted to know how I really felt about people making fun of me.
Again I tried to work my way around the question, but I didn't get far because she asked again.
Finally, I told her, "It hurts so bad until I can't describe it," which is what she wanted to hear-and what I needed to say. How I really felt.
After that session, it became easier for me to express my true feelings.
Another time someone spread a rumor saying that I had sex with one of the residents. That whole thing went around the entire campus infecting people's brains like crack. And it lasted for weeks.
Some of the residents would say, "Your roommate said you had sex with another resident," or "Yo, I heard you was gay, is that true?"
To me, that was hurtful and embarrassing. I felt like I wanted to die, but I never let anyone know how I was really feeling. I just made myself go completely numb to the hurt, only feeling anger.
But it didn't work because all my other feelings continued to build up, colliding and swarming around like the winds of an unpredictable storm.
I was rude to the other residents for the littlest things. Like when one asked if he could have some of my cereal, I responded, "No, what the hell do I look like giving you something of mine, anyway?" He just rolled his eyes and walked away.
Another resident asked if I had a bar of soap he could borrow. I responded, "No, do I look like your freakin' mother to you?" He just started mumbling and walked away, as well.