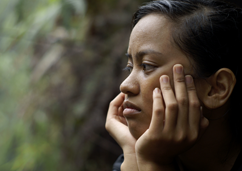 Don't Keep It Inside: Talk It Out
(continued)
Going Deeper
My anger was a reflection of how much I was hurting inside. Because I was hurting so badly and didn't want anyone to know, I became more and more angry, and that's when my therapist really got down to business.
She told me she thought I was trying to get at people's most sensitive, vulnerable sides, so I could make them feel the way I felt. Then she began to dig deeper.
Instead of just telling me not to act out anymore, she asked me why I did it. How did it make me feel to insult someone? Did I think it was a positive thing to do?
At first I didn't know what to say to her questions because they were so direct.
I explained to her that the things they said about me really hurt. And it wasn't just the fact that they weren't true. It was the fact that some of the same people saying these things claimed to be my friends.
But I also liked that she was willing to be so direct with me. With questions like that, I knew we were getting somewhere and that I was dealing with someone who cared. Which is what I wanted all along-someone who was going to be there whenever I needed her. Someone who understood both sides of the story.
Working with my therapist, I learned not to get so angry at so many little things. She helped me uncover a side of myself I never knew I had and showed me how to look at myself from the outside in. With her help, I realized that the ways I was acting were just a cover for my true feelings.
I still have to work on expressing my feelings more and not always thinking someone is talking badly about me. I still have to work on watching the things I say or at least how I say them. Which may take a while.