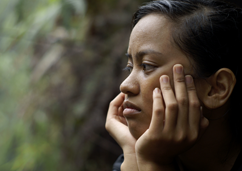 Don't Keep It Inside: Talk It Out
(continued)
A Reason to Live
But my therapist also helped me see that the things that went on at my group home weren't all my fault, and what was my fault I'd have to admit to. She helped me realize that I actually did have a reason to live.
She helped me beyond words. She was the only person I trusted. So it really hurt me the day I found out she was leaving. I just felt like shutting out everything around me.
It's going to be hard to start with another therapist because I don't feel like going back and talking about my past after doing it with four other therapists. I just want to move forward.
I just need someone I feel I can trust, with whom I can really talk about myself and my life. Sometimes, I just need to talk about me. Just me.