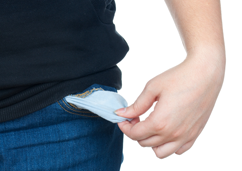 My Green Debit Card: Opening a bank account taught me responsibility—the hard way

I was 17.5 when I graduated from high school and I had plans to head to college in New Hampshire. Over the summer, I had a work-study job there and it felt great to be working. I could pay my tuition and I had some money in my pocket.
I wanted to save my money to pay for things like clothes and transportation to get back to New York to see my family. So I went to the bank to open an account. With a bank account, I thought I'd have a safe place to save my money and wouldn't be as tempted to spend it.
I didn't know anything about what it meant to have a bank account, or that it would be so complicated and tricky. The representative at the bank didn't really break it down for me. She just told me to be careful about going into overdraft.
I didn't know what she was talking about; I just thought that having a bank account meant I could have a debit card. To me, a debit card represented freedom and independence. It would show I could be responsible without relying on someone else.
I completed the application to get a bank account, which included both a checking and a savings account. I ordered a checkbook and paid extra for cute Mickey Mouse checks. They also gave me a green debit card. I was ecstatic that it was green, because not only was green one of my favorite colors, but also it represents money.
I Was Ignorant
The problem was, I wasn't paying attention to the fact that it was a debit card, not a credit card. I didn't understand that a debit card meant every time I swiped it to pay for something, the money came right out of my checking account. I didn't understand that if there wasn't enough money in my account to cover my purchases, the account would go into overdraft, meaning I'd owe money to the bank and would have to pay penalty fees.
I didn't pay any attention when the bank teller told me that if I had a negative balance (spent more money than was in my account), I'd have to pay it off. If I didn't, the bank would report me to a collection agency. I only thought about using the card to get points and rewards (every time I bought something, I'd get points toward free prizes).
After I received the debit card, I let my mother know about it. She wanted me to be independent, but she warned me to be careful.