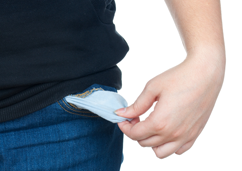 My Green Debit Card: Opening a bank account taught me responsibility—the hard way
(continued)
Independence?
"Chimore, you need to be practical with your money. Because if you don't you will have problems for years," my mom explained to me.
"Yeah, I know already," I replied, trying not to hear a lecture from her.
"For example, you shouldn't have bought that Mickey Mouse checkbook, you should've got plain checks for free."
"Mom, it's my money and I can do what I want with it. If I get a negative balance or waste my money on nonsense, let it affect me," I sassed at her.
I didn't want my mother to say anything else on the matter, so I changed the subject. I wanted to be independent and I wanted her to know that I wasn't a little girl anymore; I could handle my business on my own. The truth was I didn't actually know how to handle my business, but I didn't realize that until it was too late.
Sneaky Fees
Since I hadn't looked at the monthly statement the bank sent me, I didn't notice that almost every time I used my debit card, they added a fee. Every time I used an ATM at a store, I'd get a $1-$3 fee. When I withdrew money from a bank other than my own, they'd charge another fee—sometimes as much as $5.
After two months, my mother's prophecy was true. I wasn't being practical and I ended up having a negative balance of $98.00. I couldn't believe it. I was pissed off, wondering how it had happened.
I finally looked over my monthly bank statement. Between all the fees, my Mickey Mouse checkbook, and the money I spent on my Metrocard, my account had gone into overdraft. It hadn't taken long at all. I didn't keep on top of my balance like I was supposed to, so those fees kept crawling in on my account like a snake ready to catch its prey.
I hated the thought that my mother would look at me like I was a child. I knew I had to fix this problem, so I called one of the representatives from the bank. She gave me another shock: My account had been closed because I hadn't paid off the negative balance. I didn't get any warning call. If they sent me a letter, I never got it. To make matters worse, the bank had already reported me to a collection agency.
Things weren't going well for me. I had to leave college in New Hampshire and go back to New York. I lived once again at my foster mother's house. And since I didn't have a job, trying to pay off the bill was difficult. I tried job hunting but I couldn't find anything.