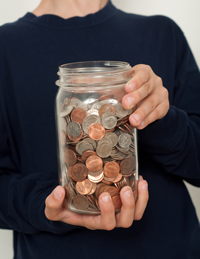 My Green Debit Card: Opening a bank account taught me responsibility—the hard way
(continued)
Paying It Off, Little by Little
The collection agency offered me a payment plan to pay off my debt little by little. But since I wasn't working, this didn't help much. My only income was my foster care allowance and stipend—$100 a month. That was for clothes, hygienic items such as soap and deodorant, and other miscellaneous things.
But I really wanted to pay off my debt, so I started tutoring and babysitting. I was able to start paying the collection agency $10 a month, but even that was difficult. I needed to start saving money for transportation to get back and forth to school.
I told my foster mother that she should increase my allowance because the money she was giving me every month wasn't enough. I thought that was fair, since I always do my chores. She agreed, and this helped motivate me to make money my responsibility.
Little by little, I paid off the debt, and I have learned my lesson about bank accounts and debit cards. Yes, it's your own money and you can do what you want with it. But I also have learned that being independent means being able to manage your money carefully and not buy a lot of things that you don't need. It also means educating yourself about the way banks work and knowing what you're getting into before you open an account.
I still keep my green debit card in a special box to remind me about being responsible with my money and not spending it on foolish things.