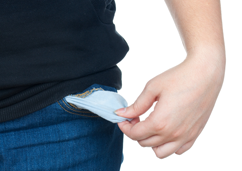 My Green Debit Card: Opening a bank account taught me responsibility—the hard way
(continued)
Shopping for a Bank: Things to Look for
When I opened my first bank account, I didn't ask a lot of questions, and that helped me end up in a big financial mess. You need to know what kind of bank is best for you and understand the pros and cons of opening an account at that bank.
Look for:
Low fees, and a "no fee" checking account. A fee is an amount of money a bank charges you for things like using another bank's ATM, or overdrafting (spending more than you have in your account).
An account with no minimum balance. Some banks charge fees if the money in your account, or balance, drops below a certain amount.
A bank that has its own ATMs, including ATMs near where you live and/or work or go to school, so you won't end up using other banks' or businesses' ATMs (for a fee).
Five Things to Ask Before Opening an Account
Just because you go in to talk to a bank representative about opening an account doesn't mean you have to open one at that particular bank. Here are some questions you should ask:
What types of bank accounts do you have, and what fees do you charge?
What is the minimum amount of money (minimum balance) I have to keep in my bank account? What happens if my balance goes below that?
What is the fee if I use another bank's ATM?
How do I know if my account has a negative balance? What are the overdraft fees if I have a negative balance?
How can I transfer money between my checking and savings accounts? Is there a limit to how many times I can transfer money between accounts each month?