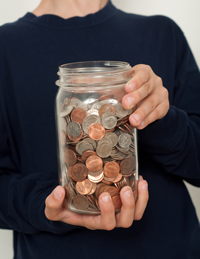 Stealing My Good Name:
I fought back against identity theft
I never thought my identity could be stolen. Every time I watched a movie or show about identity theft, I thought that the victim must be stupid. "All they have to do is sue the people," I'd think. But it's a lot more complicated than that, as I found out the hard way.
I was about to age out of foster care, so I had started making goals for each month so I could become more financially independent, step by step. I wanted to get a job and get a credit card so I could start building up a good credit score. You need good credit to qualify for loans to pay for college or a house. It can also help you get a credit card with a low interest rate.
A high credit score shows that you pay your bills on time. A person with a bad credit score looks unreliable. Bad credit means you have a lot of debt and might have a lot of late fees from not paying bills on time, and you may have maxed out your credit cards.
I hadn't done any of those things, so I applied for a credit card with confidence. I would only have three things on my report: my T-Mobile cell phone bill, college loan, and my old bank account.
A month later, I received a letter stating that I wasn't approved for the credit card because the company had checked my credit history and it was bad. The letter also said I could write to a credit agency called Experian (TransUnion and Equifax are also credit reporting agencies) to get a copy of my credit report, which would explain more. I wrote to the address and waited anxiously to receive news from Experian.