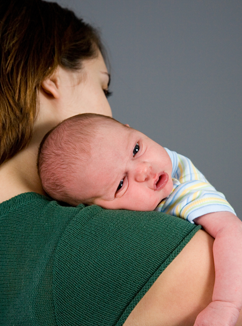 A Day in the Life of A Teen Mom
5:00 a.m.: The alarm goes off, but it's not any ordinary alarm. This alarm goes off at different hours, seconds and minutes without warning. The alarm is the sound of a screaming baby. My baby.
At first I ignore the cry, hoping it will die down. But it doesn't, so I sleepily turn over to give my one-month-old daughter her pacifier. She keeps crying. I'm getting frustrated-in about one and a-half hours I'll have to get up and get ready for school. I force myself to get up and go into the kitchen to make her bottle. My daughter is in my arms and still crying.
The bottle bobs in the boiling water. I take it out, checking it on my wrist to see if it's too hot. Luckily, it's just right. I walk back to my bedroom, sit on my bed and begin feeding my daughter. I stop to burp her after every three ounces that she drinks. When she's done, I lay her down and pat her back so she'll fall asleep.
6:30 a.m.: I close my eyes and the alarm goes off. (The real alarm, this time.) Realizing that a whole hour and a half has passed, I bolt straight up. I grab my towel off the night stand and get in the shower. As the hot water hits me, I can feel my body weakening. I start to doze off. To stay awake, I stand directly beneath the water, letting the hot flow hit my face. I get out of the shower, dry off and get dressed.
I take my daughter off her stomach and turn her around so I can take her clothes off. She begins to wake up, but not fully. I get her wash rag and wash her body down. I put a pair of clothes on her that I think makes her look so cute.
7:30 a.m.: I've got to hurry so I'm not late getting to the baby sitter. I strap my daughter into her carrier which is attached to my upper body. I begin to complain about how much my back is going to hurt by the time I get to the train. As I'm leaving the house, my boyfriend's sister says, "Stop complaining!"
"She thinks it's so easy," I think and roll my eyes.