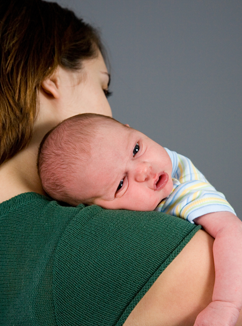 A Day in the Life of A Teen Mom
(continued)
The train is six blocks away. Each block my back hurts more. I'm on the sixth block when I see the train pulling up. I start running, holding my daughter. At the turnstile, I struggle getting my Metrocard to work. Once through, I run up the steps. "Hold the door!" I shout. I'm catching my breath as people offer me their seats.
Back on the street, I have to walk five blocks to the baby sitter's house. When I get there, I decide to relax until it's time to go to school. Sitting at the kitchen table taking a rest feels so good to my back.
8:30 a.m.: I kiss my daughter goodbye and walk to school. The school day always goes by smoothly. Being in school feels like a break from my other life as a mom.
2:30 p.m.: When school's over, I run out the front door and walk quickly. I always try to get to the baby sitter's house fast so that I can get home faster. Getting home early gives me more time to rest.
I pick up my daughter at the baby sitter's and walk to the train. Walking makes me so tired and mad. Sometimes I want to take a cab, but I don't. I'd rather not waste money to avoid a walk I know I can do. So I just handle it and keep going.
When I get home, I have an hour to rest before I leave and go to night school. This has been my schedule for the last seven months.
But things momentarily changed one particular Friday morning. I was on my way out the door, complaining about walking to the train and how heavy my daughter was getting, when my boyfriend's sister said, as she used to say often, "Please, Shauntay, you act like it's hard what you do every day. All you're doing is taking her to the baby sitter and picking her up, then bringing your butt home. That's nothing!"