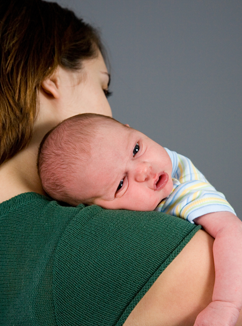 A Day in the Life of A Teen Mom
(continued)
You Try It!
I couldn't believe she thought my schedule was easy. So I took off the carrier, passed my daughter to her and said, "OK, since you think it's so easy, take the diaper bag, put the carrier on and take her to school with you!"
She agreed. She shrugged her shoulders and said, "No big deal." She called up her school to make sure she could bring her niece with her. While she was on the phone, I told her the rules: she had to walk to the train and walk back home from the train-she couldn't take a cab. I also explained what she needed to do in case of an emergency. I told her that if my daughter cried with the pacifier, it means she's hungry, and if she starts to choke, just pat her back softly.
As I walked to the train without my daughter in my arms, I felt so good. I had no back pains and I was able to walk fast. Being without my daughter felt very different.
When I got to school, my advisor said, "Shauntay, you're extra early and you don't look worn out." "That's because I didn't bring my daughter to the baby sitter," I said in an excited voice. "I came straight to school." She told me to have a great day off.
All day I was anxious to get home to see how my boyfriend's sister's day had turned out. Mine was going great. I felt so free, my back was well rested and my feet didn't hurt.
After school, when I approached the door to my house, I could hear her pacing back and forth. Before I could take a step inside, she had put my daughter in my arms.