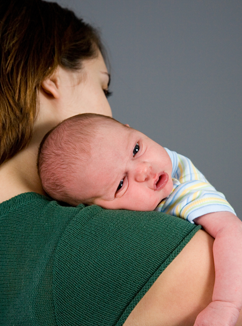 A Day in the Life of A Teen Mom
(continued)
Was It That Bad?
"Damn," I said, "was she that bad? And what are you doing home so early?"
"Why am I home so early!" She was still pacing. "I'll tell you why I'm home so early! Your daughter is heavy, greedy and she threw up all over me in school. I had no choice but to come home! Then," She said in a very sarcastic tone, "while I was attempting to walk home from the train, I had to spend money on a cab because of all the weight that I had to carry!"
"You cheated," I said. "You was not supposed to take a cab home. You were supposed to handle it like I do and walk your lazy butt home. Also," I said, mimicking her, "stop complaining. All you did was take her to school and bring your butt back home."
"All right," she said. "I now understand where you're coming from when you say that it's not as easy as it looks. From now on, since I'm the one looking in on the situation, I won't comment, or should I say I won't knock it 'til I try it."
It's Not Easy Planning for Pregnancy
True to her word, my boyfriend's sister no longer makes comments when I complain. Instead, she even tells others that it's not easy being a teen mom. And after experiencing the day in the life of a teen mom, she is even more determined not to get pregnant until she's ready to be a parent. She says she doesn't want children until she's married and financially stable, so she can take cabs whenever she wants.
My life is not easy, but I learn to manage. For me each day is a new struggle, whether it be with school or with my daughter. I continue to wake up each day and do my thing because I know that in the end I'll be paid and living a nice life accompanied by my daughter and my fiancé.