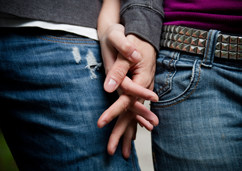 The Relationship Bill of Rights
By Anonymous
I hereby declare that I have the following rights in my dating relationships. I also recognize and respect that all other people are entitled to the same rights at all times:
To have and express my own feeling and opinions, whether or not others agree.
To make decisions about myself and have equal decision-making power in my relationships.
To say "no" to physical closeness or any other act that makes me uncomfortable, at any time.
To refuse a date at any time.
To choose my own friends and maintain relationships with those friends.
To participate in activities that do not include my boyfriend or girlfriend.
To control my own money and other possessions.
To live free from fear and abuse.
To end a relationship.
This bill of rights was adapted from The Teen Relationships Workbook and is used by the city's NYC Healthy Relationship Training Academy.
(Read another youth story, "How to Know if a Relationship is Good for You")