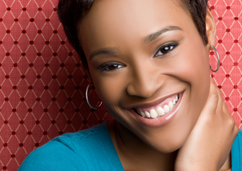 Straight Girl Stands Up for Gays
In 5th grade, I had a friend who told me that she was bisexual. I had no idea what it was and I asked her. "It means I like boys, but I like girls too," my 12-year-old friend told me.
I had never heard of such a thing and I found it intriguing, since I had only seen straight couples in my life. It didn't occur to me that people might see anything wrong with same-sex relationships. Years passed and I began to see more people who were interested in members of the same sex, including a few of my mom's friends. These friends were some of the nicest people I'd ever known, so it was clear to me that there was nothing "bad" about being gay.
Yet in my middle school there were a few people who were thought to be gay, and they were made fun of. They weren't physically bullied, but they frequently faced name-calling and taunting. When my mom's friend's daughter came out to me, I admired her bravery to accept who she was and just be herself, in spite of the teasing she'd probably face on account of it. There weren't many opportunities in middle school to support gay rights, but I kept an open mind.
Taking Action
In 9th grade, I saw my first chance to do something positive: My high school had a Gay-Straight Alliance (GSA), so I joined it. We were a small group, and we'd try to think of things that we could do in the community and in my school to raise awareness about discrimination and promote equality for all orientations.
There were gay members, there were straight members, and there were questioning members. A lot of times, the group ended up just being a place where we'd feel comfortable enough to talk about anything. We'd talk about what our families believe about gay rights, whether we'd ever experienced discrimination either for being gay or for supporting gay rights, and how we could stop the ignorance and show people that being gay is just one part of who someone is. Being in the GSA taught me that for any cause you support, there will always be others who share your beliefs—maybe more people than I had initially believed.
The main thing we participated in was the Day of Silence. It's a national, student-led event held every April, during which participants refrain from speaking for a day to raise awareness of the silence that the gay community must keep when they cannot be themselves.
In tragic cases, having to keep their true selves hidden leads some gay teens to depression, and sometimes even suicide. (A Columbia University study published in 2011 found that gay, lesbian, and bisexual teens were five times as likely as heterosexual teens to have attempted suicide at some time in the previous year).
When I heard about the Day of Silence I immediately thought, what better way to promote acceptance than by doing something so noticeable and powerful? It was also the first time I'd found a way to do something proactive for a cause I believed in.