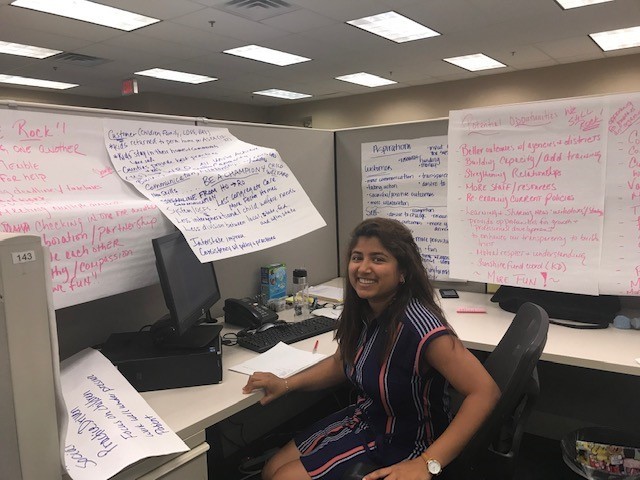 Ruba, Youth in Progress Intern, Region 5, Westchester
Q: How did you find out about the Youth in Progress internship and what previous experiences prepared you?
A: I started working for the Youth Advisory Board (YAB) at the Office of Child and Family Services (OCFS) a year ago. Before joining YAB, I wanted to major in physics and minor in mathematics, but after I started working as a youth advisor for OCFS I changed my mind and switched my major to sociology and minor to human rights. Now I'm on a fast track for my masters in human rights. Since I enjoy working for YAB, when I got the email from Kenneth from OCFS about this internship I immediately applied. I told everyone to pray that I get the internship, so that I can learn more about the system and make more connections.
Q: Do you feel like you were judged by others because you were in care?
A: Yes, not everyone comes with similar personalities— everyone is different. I was judged a lot based on the ways my biological family did things. I believe I am a very different person and come with different habits and interests compared to my biological family. Many times, I was restricted from doing stuff just because someone from my blood family had done it and caused some sort of trouble. They assumed I would do the same. Eventually, people understood that I am less likely to repeat those mistakes.
Q: What other challenges did you face while living in care?
A: It would have been easier if certain things were not always needed to be approved by my caseworker or the Department of Social Services. Later, when I became a part of YAB, I became aware that not everything needs to be sent for approval. If I had known that then, I may not have thought getting plans approved was so much work and said yes to more plans and made more friends.
Q: What words of encouragement would you give youth in care today?
A: I would say: "You got this! Yesterday you were stressing, but today is another day and you're here now. Keep climbing the ladder and keep pushing. Be proud of yourself!"